Yokohama Konan International Lounge
Yokohama Konan International Lounge, entrusted by Yokohama Konan Ward Office, is operated by "NPO Corporation Yokohama Konan International Exchange Association." It is a facility operated by the local volunteers and a place where everyone can take part in the international exchange activities.  
People who already joined the international exchange volunteer activities and who will start to join us, please come to the lounge and expand the international exchange network together. 
Our activities include providing useful information and consultation to help foreigners, holding events to promote the understanding and deepen the friendship between the local people and foreigners, offering Japanese language lessons for foreigners and etc.
Konan Lounge News

Welcome to Konan Ward!
This leaflet is available at the Ward Office.


Konan Lounge News is available at the Ward Office, District Center, Konan Sports Center, Yokohama Municipal Subway Kamioooka Station and etc. 
Report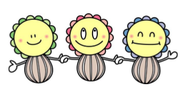 We are native speakers.
Consultations in English is now available by phone or online until February 7.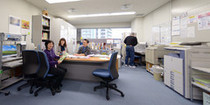 (We speak the foreign language as our mother tongue.)
If you have any difficulty in your daily life, native speakers can give you advice on it.  
Please call us before you come to the lounge.  

Interpretation and translation service is available, too.  
Do not hesitate to call us when you are in trouble. 

     TEL 045-848-0990   
Foreigner Staff Work Date and Time and a ringside to temporary changes
Language

Date

Time

Spanish
 

1st & 3rd Monday

  12:30 - 16:30
Thai
 

2nd & 4th Monday

  10 : 00 - 14: 00

Chinese
 

Every Tuesday

    9:30 - 13:30
English
 1st

Wednesday

    9:30 - 13:30
Tagalog

 2nd &4th

Saturday




    14:00 - 18:00

Korean

 2nd & 4th Friday

    9:00 - 13:00
Russian  
 

1st 

& 3rd Friday

    9:30 - 13:30

2020.7.10
 
 
We have English speaking staffs on every working day. Feel free to contact us!
Event Information
●You can get the PDF leaflet from the Event Information on the top-page. 
And if you come to the lounge, the leaflet in different foreign languages is available. 
Support for Foreigners

  Japanese Language Classes
 JapJapanese language classes are for the foreigners who are beginners to study Japanese language.  There is also a class for foreigners who want to improve their spoken Japanese. 
           Monday Class   PM
 Tuesday Class       AM/PM
            Friday Class         AM/PM
           Saturday Class     AM
※ Students are accepted in every April, September and January.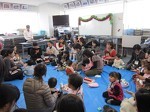 Computer Course for Foreigners
    There are classes for foreigners who can read Katakana ・Hiragana. The courses include Basic Computer Operation, Word, Excel, PowerPoint, internet, digital camera・animation edition and etc. 
※Each course is held three times a year, and starts in January, May and September.  Each course has 6 lessons and limits to the first 10 applicants. 

It is a study class for the elementary ・middle school students whose mother languages are not Japanese.  
Students can study Japanese and different subjects here.
Date & Time: Every 1st, 3rd and 4th Saturday, 13:00~14:10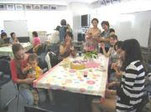 It is a cafe where you can enjoy chatting with people from all over the world, for foreigners who can't speak Japanese and for Japanese who can't speak any foreign languages as well.
You can enjoy not only chatting, but also world singing and dancing.
No need for reservation. We are looking forward to meeting you here.
Access to the Lounge
(1) From the station
Yumeooka Office Tower is connected with the Kamiooka Station of the Keikyu Line and the Yokohama Municipal Subway. 
Yokohama Konan International Lounge lies on the 13th floor in the Yumeooka Office Tower. Please take the innermost Elevator A at the entrance on the second floor to come to the lounge.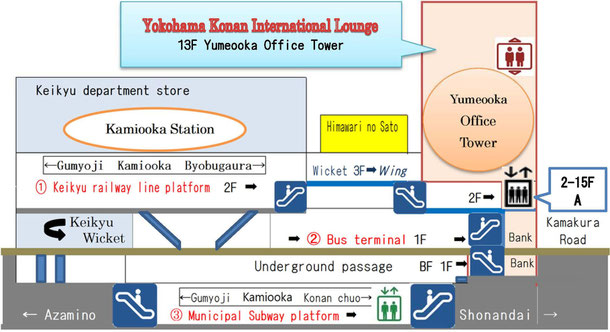 (3)Address
 〒233-0002
13F, Yumeooka Office Tower, Kamiooka Nishi 1-6-1, Konan Ward, Yokohama
Tel:045(848)0990, Fax:045(848)3669
URL:https://www.konanlounge.com/
      Mail:konan-international-lounge@yokohama.email.ne.jp
 (4) Open time
 9:00 am. – 8:00 pm. Monday~Saturday
 9:00 am. – 5:00 pm. Sunday and Holidays
 (5) Close day
     Every 3rd Wednesday
     Year end(Dec.29th-Dec.31st) Year start(Jan.1st-Jan.3rd)
Link
since2003/8/2 Asahi Net 2012/1/28 jimdo last up date 2021.1.10
©2003-2021 Yokohama Konan International Lounge all rights reserved
---